WHY CHOOSE SCHLUETER PLUMBING?
Our Honest & Friendly Certified Plumbing Specialists are Not Technicians or Salespeople; Our Specialists Go Through a 5 Year Apprenticeship
Upfront Fair Pricing; We Charge by the Solution, Not by the Hour
Our Friendly Staff is Available to Take Your Calls Monday Thru Friday; We Return After Hour Calls ASAP
Fully Equipped Trucks with Premium Equipment to Tackle Any Problem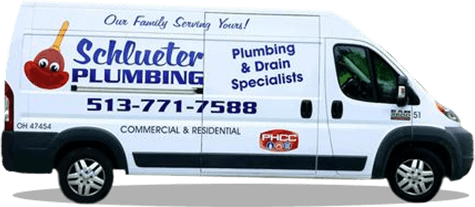 SINCE 1956, WE'VE BEEN COMMITTED TO OUR CUSTOMERS
Schlueter Plumbing has highly skilled staff with years of experience and numerous certifications. Our dedication comes from within to make sure your we meet your needs. Our certified plumbing specialists have the skills and want to help. We'll earn your business by proving our plumber are more qualified and quick than the competition.
TRADE MEMBERSHIP ORGANIZATIONS:
SINCE 1956, WE'VE BEEN COMMITTED TO PROVIDING THE HIGHEST LEVEL OF SERVICE TO OUR CUSTOMERS.
Plumbing's a trade most people aren't familiar with and at Schlueter Plumbing, we promise to never take advantage of someone who needs our services. We pride ourselves on honesty and integrity; we firmly believe that you'll see the difference when you choose our company. We've been a family owned and operated company since 1956. We may not be related, but you'll feel like we're family.
SCHEDULE YOUR APPOINTMENT