DRAIN CLEANING IN CINCINNATI, OH
At Schlueter Plumbing we have the latest technology for drain cleaning in Cincinnati, OH and can clean any kitchen, bathrooms, and sewer drain. Our equipment has advanced diagnostic equipment with cameras that will find the issue and clean your drain. For instance, if your shower drain has a clog then we'll use our equipment and camera to see into the drain and find the issue. Schlueter Plumbing can give you long term solutions to guard against future drain clogs or any drain issues.
Call today at 513-771-7588 or click here to schedule an appointment.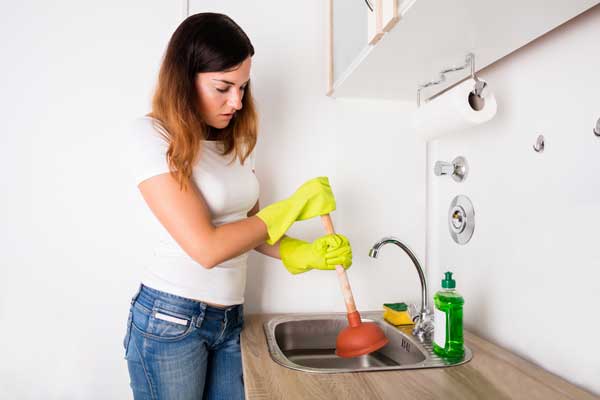 SCHLUETER'S PROFESSIONAL DRAIN CLEANING STEPS
In order to provide world-class drain cleaning services, Schlueter carries out a meticulous 8-step process to remove even the toughest of clogs from your drain. This steps of this process are:
Identify the problem

Work cannot begin until the exact part of the system that is backing up is determined and the extent of the clog has been calculated

Receive written approval from the customer to begin the project
Select the best state-of-the-art piece of equipment for the job
Put proper protection and drop cloths around the drain to protect the floors
Auger sewer
Camera inspect that your main and secondary sewer stoppage now drains
Verify drains are now working properly
Clean work area thoroughly
Our in-depth process has a proven track record of success. If you are experiencing any drainage issues, Schlueter is the right place to call!
WHAT TYPES OF DRAINS CAN SCHLUETER UNCLOG?
In over 60 years of providing plumbing and drain cleaning services to the Greater Cincinnati area, we have come face-to-face with any type of drain imaginable. On top of Schlueter's experience and reputation, each one of our specialists received extensive training on how to unclog all types of residential drains during their 5-year apprenticeship. We specialize in home plumbing and have the capability to unclog the below drains:
Kitchen sinks
Lavatory and toilet drains
Bathtub and shower
Laundry sinks, washer and dryer drains
Main Sewer
Our versatility and expertise working with any type of residential drain are just one of the many reasons that Schlueter has been trusted and highly recommended by the people of Cincinnati since the 1950s.
STATE-OF-THE-ART UNCLOGGING EQUIPMENT
As technology continues to change, so does the plumbing world, especially when it comes to unclogging a drain. There are three main types of tools that are used in the unclogging process:
Augers and/or snakes
Cameras
Flexshaft Technology

Work cannot begin until the exact part of the system that is backing up is determined and the extent of the clog has been calculated
Flexshaft technology utilizes a power chain that has the capability to expand to the size of any residential pipe. It then is able to quickly clear the entire pipe by blowing through and clearing the entire circumference.
PROFESSIONAL DRAIN CLEANING VS. DIY METHODS
Drain-O and other popular DIY methods have grown to be popular, but their effectiveness, or lack thereof, is a misconception. While they can produce results in unclogging drains, they are simultaneously introducing poisons into your home and plumbing system that create more problems in the long-term. DIY products also become a hazard to plumbers due to their poisonous materials. Because of these reasons physical removal of stoppages is almost always a more complete solution and more cost-effective in the long run.
SCHEDULE YOUR APPOINTMENT